Meanwhile in Santa Monica
starring
Rene Russo, Richard Kind and Fran Montano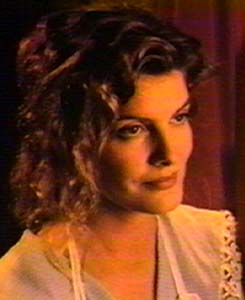 This is one of the most exceptional films I've worked on. Titled Russian Nights at the time we were working on it, Meanwhile in Santa Monica is a seldom seen, 35mm short film, shot with Panavision equipment and containing an exceptional cast. Director David Gamburg was a Russian theater director who immigrated to the US. He worked as Robin William's dialog coach on "Moscow on the Hudson" and the two continued their professional relationship afterward. Encouraging him to make a film of his own Robin Williams did a fund raiser for him to finance this project as a sample of his work.
The Story: A family of Russian emigrants run a small restaurant called Russian Nights in Santa Monica, California which makes most of its money one night a week when all the local Russians come down to party. Richard Kind is Alex, the gambling, drinking, womanizing scoundrel who runs the restaurant with his less than understanding, pregnant, American wife, Sally (Ruth DeSosa). They are desperate for money. It is no secret to anyone, however, that Alex openly lusts for beautiful Elena (Rene Russo) newly arrived in America under his sponsorship as her "employer." She is now a waitress at their restaurant and Alex is forever coming on to her. She, however, only has eyes for Grishka (Fran Montano) Alex's saint of a brother. Grishka is the total opposite of him in every way. An honest, decent and caring man, Grishka will NEVER lie or take advantage of anyone.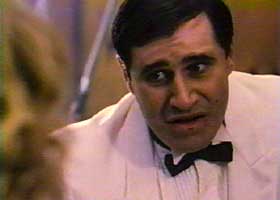 Alex sets up a deal with crocked landlord Irwin (Christopher Carroll) to open a set of clinics serving the immigrant community. Problem is, Alex has lied to everyone, including his wife and Irwin, in telling them Grishka is actually a doctor (he isn't, he's a photographer). Now for them all to survive it is up to saint Grishka to lie, passing himself off as a doctor in order to save the family, keep the restaurant and prevent Elena from being sent back to Russia.
At over 50 minutes long the film was shown around as a prospective pilot for a series which, sadly, never sold. The film has been very seldom seen since. I loved working on this movie, especially with the wonderful and talented cast and director. I must give an especially strong thanks to producer Vic Bulluck, who got me involved in the project. As Director of Photography I really enjoyed the way this film offered me great opportunities for comedy, romance and beauty lighting.

What cinematographer wouldn't love the opportunity to work with such a beautiful person as the lovely Rene Russo. The script called for an idealized romantic view of her, which gave me the motivation to do non-stop "beauty lighting" on her in almost every shot.

The camera loved her, she easily photographed lusciously and was a joy to work with in every way. Her great success since is well deserved.
(Above) "You look like a Rembrandt," Grishka (Fran Montano) says to Elena (Rene Russo), providing the motivation for a soft, warm cross light on Rene which enhanced the natural glow of her skin and the beauty of her hair.
| | |
| --- | --- |
| | |
| Elena (Rene Russo) asks Grishka for some help in getting her pay from his sexually aggressive brother, Alex. | Elena (Rene Russo) is all smiles as she see Griska entering the restaurant where she is playing. |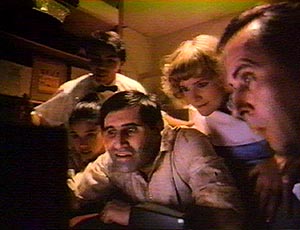 All eyes wait to see, will Grishka lie?
---
---
Meanwhile In Santa Monica
(aka Russian Nights)
additional credits

David Gamburg
Director
Vicangelo Bulluck
Producer
Vicangelo Bulluck & Peter Schwartz
Writers
Yuri Spilny & Michael Gamburg
Executive Producers
Peter Schwartz & Chris Coggeshall
Associate Producers