"EYEBORGS"
Network Television Premiere - Saturday, February 12th, 2011 - 6:30PM on SyFy!
EYEBORGS is now out on DVD, Blu-ray and Video-on-Demand! Available for instant download on Netflix and having it's world television premire on SyFy Channel Satruday, February 12th at 6:30PM! We're very excited! After Eyeborgs won Best Science Fiction Feature at the International Science Fiction and Horror Film Festival, as well as best visual effects at the Action on Film International Film Festival, Eyeborgs has now been getting great reviews in connections with its US release. Here are links to some of our faves:
EYEBORGS REVIEWS: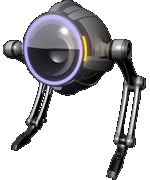 Even a nice Eyeborgs Review on Amazon by someone who attended the St. Pete screening.
PODCASTs on EYEBORGS:
Cinefantastique Interview with Eyeborgs Director
Cult Radio-A-Go-Go
Killer Reviews Episode #59 - Thai Girls vs. The Eyeborgs
We're very excited that so many people are picking up on what we tried to do with Eyeborgs, which was basically to make a fun, satisfying "killer robot" movie on a modest, indie film budget, that also had solid production value and a few good story surprises.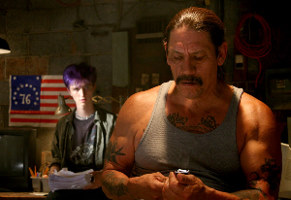 EYEBORGS - The film tells of a near future where government surveillance has reached unprecedented levels, including the use of mobile, robotic surveillance cameras called Eyeborgs. But someone is using the Eyeborgs to do more than just watch. After several mysterious deaths an agent for the Department of Homeland Security (Adrian Paul) comes to believe terrorists have seized control of our system and are using the robots against us in a plot to assassinate the President.
Adrian Paul stars, along with Megan Blake, Luke Eberl, John S. Rushton (also the film's produer) and Danny Trejo as "G-man" (pictured, with Luke Eberl).


Eyeborgs-30 second Teaser Trailer from Crimson Wolf Productions, Ltd. on Vimeo.
Eyeborgs is now available through major retailers such as Wal*Mart, Blockbuster, Netflix, Best Buy, Amazon, Target and many, many more! Visit the EYEBORGS web site for news, clips, trailers and availability.
"LITTLE CHICAGO" - Now on DVD!
Little Chicago, which I directed, is now available on DVD. You rent the movie on Netflix or purchase on Amazon.com. The film was written by Scott Miles and stars Scott Miles (October Sky), Earl Poitier (Drumline, Remember the Titans), Chris Coppola (Simone, Polar Express) and Adrian Paul (Highlander). For details visit the Little Chicago web site.
WHO AM I?:
My name is Richard Clabaugh, I am a filmmaker, formerly of Los Angeles, currently living and working in North Carolina. Most of my recent work has been as a Director of feature films, however the largest bulk of my work over the years has been as a cinematographer, which is a fancy way of saying I'm a cameraman who shoots movies. You can usually find my name listed in the opening credits, or on the video box, under "Director of Photography." See credits and links at the left for details of the films I've done and the people I've worked with.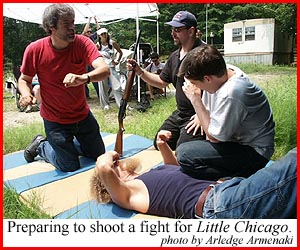 Most recently I have completed directing the feature film Eyeborgs. My previous directing credits include Little Chicago (photo to right) and before that the off beat, campy-killer-snake flick, Python. (Follow the Python link for all the campy details on that one.) I am also a founding partner of CRIMSON WOLF PRODUCTIONS, LTD., a North Carolina based independent production company. Currently we are in preproduction, post production and delivery on multiple feature projects targeted for various markets.
For 9 years I was an instructor with the North Carolina School of the Arts where I taught cinematography and special effects at the School of Filmmaking. I left that position in the Spring of 2007 to return to full time filmmaking with Crimson Wolf Productions.
I am known to many as "The Man in the Red Shirt" because, well, I tend to wear a lot of red shirts. That's also why these pages have a "red" motif.
These pages exist to provide information on the projects I've been associated with over the years (now decades) in the industry and as a place for me to express myself. I hope you enjoy what you find and encourage you to contact me using the information provided at the bottom left of this page if you have any questions or comments you'd like to share.
WHAT'S HERE?:
Lots of stuff, photos and information from movies I've worked on, a few of which you may actually even have heard of before. You can find copies of my resume, a complete credit list, photo pages from films I've done, family stuff, pictures and notes and more.

HOW TO GET AROUND:
The buttons at the top of this page will link you to the following:
FILMS: The best place to start, this is my personal gallery of films I've worked on. Each of these films has a page of its own containing photos from the movie, behind the scenes stills and information about the production. You can also link to the individual film pages by clicking on the titles and actor names to the left.
RESUME: My most current resume.
PHOTOS: A new addition to my site and not complete yet, this is where I will be posting some of my still photography work. These are non-motion picture related photos that I have taken and wish to share just because I love photography. Subjects may include kids, dogs, landscapes, sunsets, sunrises or anything else that strikes my fancy as being pretty, funny or photographically interesting.
NCSA: Has links to my CLASS pages to provide information and documents to students in my classes as well as a link to the school itself for those who are interested in learning more.
FAMILY: Personal gallery of family photos.
FUN: A personal compilation of movie industry jokes, quotes and humor. Includes every job's light-bulb joke and sometimes several for specific positions.
LINKS: A quick reference of connections to industry related sites elsewhere on the web.
CONTACT: How to reach me, including phone, address and e-mail.

Thanks for visiting,
RC


---
Current Terror Alert Level

This page last revised - June 2010

1998-2010 Richard Clabaugh